Leicester Central School is a small, rural school serving pre-kindergarten to sixth grade. We are on Route 7 between Middlebury and Brandon. Leicester is home to three lakes and Branbury State Park, which is full of hiking, boating, and camping.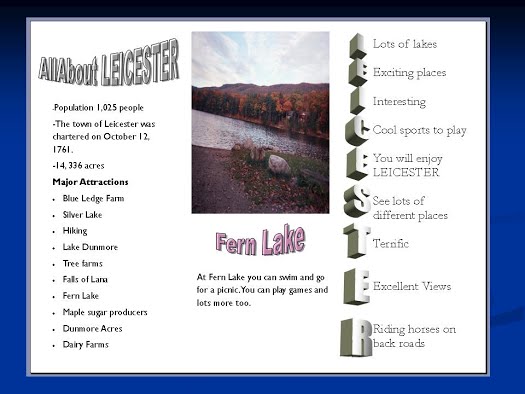 We are proud of our student results both in the classroom and on the required NECAP tests. Leicester students perform above the RNESU and State averages in reading, mathematics, and science. We have closed the "achievement gap" in these three curricular areas, with our free and reduced lunch population outperforming the non-free and reduced lunch populations. Leicester's free and reduced lunch population is approximately 60%.
We credit the following for this success:
a knowledgeable, capable, and caring staff who themselves are learners;

an educational support system that identifies students needing additional behavioral and academic support;

small instructional groups in reading and mathematics;

preschool, full-day kindergarten, after-school and summer extended year programs.

Leicester Central School is a place where every student shines. We work hard to sustain a caring learning environment where students are committed to our school values and take pride in their work. At Leicester, all students are provided with opportunities for academic, social and emotional growth. On the right is a list of our four key values and how they connect to the daily work we do.
How do Leicester Trailblazers shine?

Trailblazers are brave!

try new activities

develop new skills

advocate respectfully and confidently for self

set high expectations and goals for oneself (academic, social, & emotional)

open to constructive feedback

Trailblazers are compassionate!

deepen existing and forge new relationships between students and between students and staff

increase awareness of students' connectedness to the greater community (Leicester, Vermont, World)

welcome all students to join the program

care for each other

Trailblazers are creative!

ask questions

explore and investigate interests and passions

make connections between learning in the classroom and additional experiences and knowledge

contribute to the development of our school community

Trailblazers are responsible!

respect self, property, and environment

be honest

participate fully

persevere to completion and then mastery

be organized

reflect on learning and experiences